This page has information on Amy's exhibited works and curated exhibitions (incl. Every Forest A Reframing, 2017; Were X A Tree, 2016; Pine, 2013; and Time, the deer, is in the wood of Hallaig, 2013), as well as occasional published artworks and commissioned record covers. There are also some details from Amy's painting in different media (on canvas, wood, marble, or stone, and often using oil paints, acrylic, liquid bronze, or degraded plant material). The themes are often linked to memory, media, ecological archives, or to natural history.
Amy's nature documentary hacking film All Her Beautiful Green Remains In Tears (2018), created with data artist Anna Ridler and musician Leafcutter John, will be installed and screened in a "mock TV studio" at Somerset House Studios as part of the TBC TV programme on the shifting nature of television media, 3-7th Oct 2018.
The Art of Magic (above) is a collective project curated by Folklore Tapes with The Museum of Witchcraft and Magic (Boscastle) and nationally touring the UK in 2018: it is an exhibition and performance based on missing artefacts once found in the archive of the Museum. Cutler is one of thirty contemporary artists who have imaginatively re-scored and re-stored these mysteriously lost magical charms, tools and spells through video, installation, sculpture and sound, based on the original index cards. The material combines hybrid folkloric and natural items. Cutler's contribution was a re-interpretation of a love charm object built from a hazel tree, for which she used branches from one of the remaining hazel trees in London, in Lincoln's Inn Fields. As part of the event programming for this exhibition she also performed live at the opening at the Horse Hospital, London, with compositions drawing on nature invocations by Kathleen Raine and other poet-mystics, accompanied by the band Folklore Tapes playing natural objects as instruments, including a DIY "tree-harp".
WE SPIDERS (2018) is Amy's series of non-linear musical scores for live performance, based on cobwebs; the full score and text is forthcoming as a chapbook, and has been performed twice in 2018 so far. It draws on natural history texts and insect philosophies by writers including Louise Bourgeois and Jean-Henri Fabre, as well as the writing about spiders, science and modernity in Eleanor Morgan's book Gossamer Days: Spiders, Humans and Their Threads (2016), particularly in relation to improvisation, collaboration, and web damage.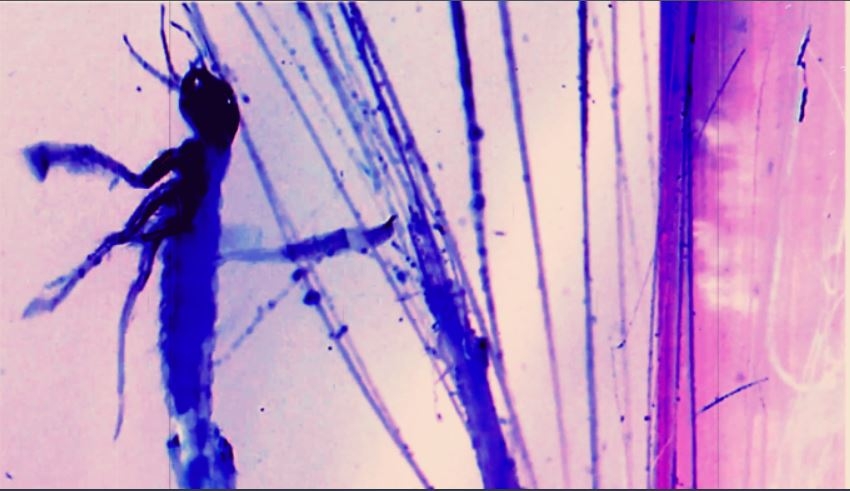 As a duo, Amy Cutler and Sylvia Hallett perform live improvisatory settings of pieces drawing on natural history texts, such as "you, the stingbearers", based on Jean-Henri Fabre's 19th c. chronicle of human desolation, The Life of the Fly. The installation includes Amy's projections (left); kaleidoscopes and celluloid mutations based on glitched insect forms and movements in 1970s VHS nature documentaries, from larvae to tsetse flies. Amy and Sylvia's live compositions use instruments including viola, musical saw, and Russian vines from Sylvia's garden, while the lyrics draw on the dark sides of nature: from sea parasites to forensic botany to elegies based on Arctic bird migrations and Icelandic ballads. This piece has been installed and performed at SET Gallery in Bermondsey as part of Bring Your Own Beamer (14th Dec 2017), and as one part of a triptych of audiovisual performances alongside Dean McPhee, Sam McLoughlin and David Chatton Barker (16th Dec 2017).
"From woodland we come to woodland we go" - Marietta Pallis
Showing at the Sheffield Institute of Arts, 6th-28th September 2017, as part of In the Open, this ongoing collaboration between Amy Cutler and Steve Baker considers ideas of homage, haunting, and iconicity in woodlands, particularly reclaimed or recolonised woodlands. Cutler's interest in 'the endless relay of haunting citation' in the forest led to shared discussion of processes of glitch, framing, mis-alignment, juxtaposition, and repetition, and to Baker's sited still lives of pages of noirish tree portraits by photographer and bookbinder Josef Sudek; here, Sudek's Mionší Forest is brought into an imagined relation with the trees of the East Anglian landscape.
In response to Baker's Like Columns of Tiny Ants and Sudek's Trees, Cutler's black and white series explores the idea of multi-spectral forests and composite canopy imaging, also using Sudek's iconic images of panes, fog, and branches as a translucent "viewing lens" in less familiar woods, in a sort of real life double-exposure. Like Marietta Pallis' oak "tableaux" paintings, which ironise the normative vision of woodland succeeding grazing marsh in the Norfolk Broads, Cutler chose Russia Dock Woodland as her local wood reclamation: a now living timber yard, created from the infilling of a dead timber yard in Surrey commercial docks. In the staging of Baker's and Cutler's composite works, the boundaries between homage and reality are tested and retested, in woodlands which are themselves a managed and over-worked artefact of the British landscape.
The Auld Triangle (The Trembling Bells, 2017)
This record cover takes the elements of the famous Irish ballad - the banks of the canal, the insanity-inducing triangle at Mountbank Prison, and the procession of the convicts to execution - and combines it with the grislier German / Norse version of the "Wild Hunt" or "Ghost Train" of the doomed, including the "mad army of little thieves". Amy can also be heard singing backing on it.
At Least Those That Remain In Our Memory
This diagram artwork, titled "At least those that remain in our memory", was created for the book The Lost Diagrams of Walter Benjamin (MA Bibliothèque, 2017).
In 'A Berlin Chronicle', Walter Benjamin describes his autobiography as a 'space to be walked'. Indeed, it is a labyrinth, with entrances he calls primal acquaintances.
The contributors to The Lost Diagrams responded to an invitation to accompany Benjamin in reproducing the web of connections of his diagram, which, once lost (he was inconsolable), the diagram was never fully redrawn.

They translate his words into maps, trees, lists, and constellations. Their diagrams, after Benjamin, are fragments, scribbles, indexes, bed covers, and body parts. Subjectivities sharpen and blur, merge and redefine, scatter and recollect. Benjamin writes — 'Whatever cross connections are finally established between these systems also depends on the inter-twinements of our path through life'.

'This archive of maps by readers of Benjamin suggests an unexpected form of solidarity.' — Susan Buck-Morss

'The diagrams in this book trial the possible clusters of a life curtailed, one tailored to small means, but immense in imagination: Walter Benjamin's.' — Esther Leslie
FAD review: 'Amy Cutler's PINE (2013) asks a two part question projected onto a slice of pine trunk infested with wood worm: 'Dites-moi suis-je revenue de l'autre monde?' This piece evokes questions concerning life, death, resurrection and the role of the wound. The pine trunk slice appears to curl its arms around its wood worm wound, at once protecting the wound and attempting to overcome it, or seal it, drawing attention to that which returns and to that which is already here: what is retained or (p)reserved, in the present, of the past? Are the traumas of the past revisited on the present through wounds such as these? What does it mean for wood to remember?'
Trebuchet Magazine review: 'It is Amy Cutler's installation, PINE, however, a projection onto a section of tree that has experienced "forest trauma" of lines from a poem by holocaust survivor, Charlotte Delbo, that offers the most radical image of interrelatedness. The juxtaposition shocks partly because we resist such analogies, but also stirs an ambivalence about all our efforts to make nature speak.'
Velour review: 'Amy Cutler's PINE, a verbal play on a dendrochronology sample projected with modern French poetry, might lead us to feel that such palimpsests of another life signal regret – they are in fact equivalent to and at one with the life that remains, stored in genetic reserve (…) and available to us. Temporally circling nature, here the predator never fully possesses the prey; nature inevitably recolonizes what man has attempted to fit to his tune.'